music to hide and seek
guys - its almost summer and most of all i feel the time passing by. i am doing exhibitions like crazy, in a wild rush as if my time is running up and i haven't made a proper new song in almost half a year. just recently i met some friends who were looking for my album music to hide and seek wich is sold out since a long time. i am not at all interested into rereleasing so i decided to put it all on youtube for those few who still look for it. in fact it has been years since i listened to it myself and immediately it all came back : trouble with love, trouble with the world, trouble with myself - somehow i had some nice melodies for all that confusion then. and now i really want to make some new music... lets see where i get. there are a couple of shows in summer including a one hour liveshow for zündfunk nachtmix in aug. see you then
marx was right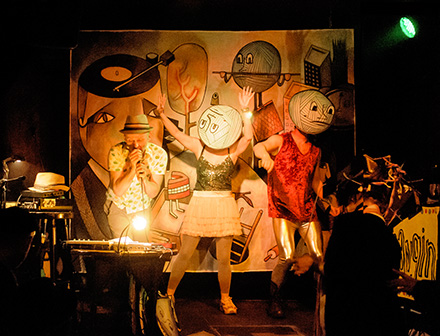 time goes by, as it always does. i did a couple of shows in the last few weeks including a very nice one in a club close to the beach in ravenna/italy. in berlin there is now a group of people, that is coming to all my shows to dance with masks on stage wich is nice, because it doesn't feel so lonely anymore up there but also adds a little bit of extra chaos. at the show in Konzulat i jumped on the mic and destroyed it and by funny coincidence the sound guy was gone for dinner during my show and there was no other mic available. good luck i had this small new keyboard , a little box of wonders named OP-1, that has a built-in mic and so i sang the rest of the show through that keyboard wich looked rather ridiculous but sounded surprisingly good. right now i am in korea with the family - no shows but i have brought that special keyboard with me to work on new songs. i just discovered there is a function that converts a drawing into a sound. by default it came with a little portrait of Karl marx and the words "marx was right".
party for 1
the year is almost done and instead of partying i am seeing the postoffice three times a day to send all those xmas special orders in time. thanks to everybody who ordered and thanks to all the people who replied to my big mailout some weeks ago. now i know there is a tiny future for neoangin. in the meantime please enjoy my next video with guestappearances by rebecca and adja. we did all the filming in summer but then i found out that i had put the camera resolution to lowest level and was so paralysed that i couldn't work on the video for months. now its out and i am sure it lives on its lofi charm and i hope you like it. when in berlin please join me for the neoangin xmas special this thursday in valentinstüberl with a very special santa claus from nova huta.
HUGHUGHUG
As usual it all happened in a bug rush in the end. The finished copies of my new album arrived 1 day before the record release, and the party itself was a big exitement and so was the minitour. The show in colognes Gold und Beton ended as a 4 hour dance extravaganza after wich I completely lost my voice, I had to whisper my talk in museum Ludwig the following day. I returned home from the tour as a happy man , with every copy sold that I had in my suitcase, but then went straight to bed for the next week with a strong cold. I am okay again and since there is no exhibition planned for December and only 2 small shows over here in Berlin, I think thats the perfect moment to update this homepage, tell you the stories behind the songs on the new album, complete the bio, upload new fotos and artwork and make everything look fresh again. Till soon
haste makes waste
It was announced every now and then in the past 2 years and postponed even more often– but finally my new album is here and an official releaseparty is going to happen by the end of this week. Please join me for "south of the block party" at Südblock together with Angie Reed, the Queen of quirk and very special guest Namosh as DJ for the release of my brandnew album " Hug the enemy" on CD and as a special edition on USB stick. Stage and Club will be decorated like you haven't seen them before and there will be dancers, lifesize drinks and tigers on stage. To make this exitement complete ( lets not mention the flu I bright back from Zurich yesterday ) there was a nice article in good old New York Times this weekend about my recent show at Neurotitan. And just in case you are looking for art to buy over here – I am not selling any art online – but please write me a nice mail and i will get back to you first thing after I survived the releaseparty.
bad fotoshop
there had been some murmur that i will never release another album but finally its getting somewhere: releaseday is set ( nov 1 ) and a record release party confirmed for oct 24 at südblock in Berlin with very special guest Angie Reed. the album will be available either as Cd or as USB stick in cretidcard shape for those who threw out their Cd player. both Cd and Creditcard USB come along with a 24 page booklet and Albumcover and there will also be a single with 2 extra tracks.... so far no artwork had been designed for any of those - but since i am famous for working best under deadlinepanic, lets expect quick results in the next days. after all i can present you a first song from the new album: the video is collaged out of my 30 favorite record sleeves from when i was a kid and congenially put together in a monthy python style by the one and only cutja. enjoy
not so good excuses for being late
so whats wrong in the house of neoangin? The recordings to my new album are finished for almost 2 months but nothing happened since. i couldn't decide on a title , or if i want it to be an oldfashioned CD or a USB stick with the files on it and still i have no idea how i want it to look like.... instead i am painting random walls here and there and have one exhibition after the other, i also started doing videos to the new songs to have a few ready once the album is out. looks like i am doing a lot to keep me busy and not having to decide on the title. not that theres a million people waiting for my new music, but still some people that booked me for shows are mentioning new songs they have heard somewhere. get ready mister neoangin, and no more distractions in july please
the musical ABC
Not to often i a can announce a world premiere - but here is one: while working on the new album i had a secret side project wich my old studiomate Anja Lutz who once gave the magic touches to our book BUSY that got released on die Gestalten. After an invitation to give a talk at the notorious TYPO conference i convinced the TYPO people to also invite me to do a show at their even more notorious Typo party and came up with the idea to " the musical ABC". Picture yourself being back at high school sitting in the music class and beings unable to read the score and wishing it had images instead of sheet music. we now made exactly that dream come true with the release of "the musical ABC" - its a neoangin songbook with a song to every letter in the alphabet and a doublepage illustration to look at while listening to the music. The Typoparty with the fulminant release of the musical ABC is this saturday at Cafe Moskau and its open to everyone.
party for 2
Finally theres proof that I went into studio to record a new album, the first one within 4 years. The guy next to me is mixing mastermind Norman Nitzsche. we did 21 brandnew songs in less than a week. So far I don't know if I am going to release the music on a regular album or on something with a downloadcode ( bag, tshirt, bathrobe ) but what I do know is that I want to produce a single, the first one since the neoangin/nova huta split single with the cure coverversions. So far I think it's the best album I ever made, but that's what all bands think after they left the studio. There are quite a few shows in the next weeks starting tomorrow april 30 with a show for pictoplasmafestival at crystal ball gallery, and even if the album is not produced yet I am sure I cant resist and play some of the new material….
I'll be around
2014 had been strange so far. in january i almost overdid it with having a show almost every second day. in a sudden attempt of avoiding the old routine of doing press, posters and flyers i played only places i hadnt been before and that were not reguarly having bands, anything from birthdayparties to yogastudios, boutiques to exhibitionspaces. i announced these shows only on the day they happened and most people missed all of it but i have to admit, i really enjoyed doing these shows. on the foto you see me at urban spree performing for berlin graphic days. after all this exitement i gave myself a break in february , went for a holiday and thought about life. somehow i am still not really back. at least there is a couple of new gigs and exhibitions to announce. see you in spring...
> READ ALL NEWS
> Get the newsletter
> Facebook-Page
> Subscribe to the RSS-Feed
NEW ALBUM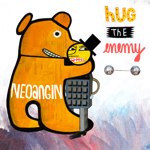 Hug the Enemy
NEW BOOK
Das Musikalische ABC
NEXT GIGS
Saturday, 12. Sep 2015
D Bremen Galerie Kühn

Friday, 18. Sep 2015
RU cluj festival

Sunday, 20. Sep 2015
D Berlin LIDO Nepalbenefiz

Wednesday, 23. Sep 2015
D Köln artfair

RECENT GIGS
Saturday, 29. Aug 2015
D Berlin Galerie von frei

Wednesday, 26. Aug 2015
CH Bern Galerie Krebs

Sunday, 23. Aug 2015
I Ravenna Hanabi tbc

Tuesday, 18. Aug 2015
D Berlin Valentinstüberl

Saturday, 15. Aug 2015
D Hamburg artville festival

Saturday, 8. Aug 2015
D München Zündfunk-Nachtmix

Thursday, 18. Jun 2015
CH Basel Parterre

Saturday, 13. Jun 2015
B Galerie v Frei - Torstrassenfestival

Saturday, 6. Jun 2015
D - Köln Die Kunstagentin

Thursday, 16. Apr 2015
D - Berlin Eschloraq w Justine electra/ nova huta

Saturday, 11. Apr 2015
D Hamburg Feinkunst Krüger Vernissage

Saturday, 14. Mar 2015
BRA Sao Paulo

Saturday, 7. Mar 2015
D - Berlin BAR

Thursday, 26. Feb 2015
D Berlin galerie listros

Wednesday, 11. Feb 2015
D - Karlsruhe KAP