did you scratch my records?
2016 - what a strange year - we saw England leaving the EU, we saw Trump conquering the US and we saw some people dying, we thought they were kind of immortal. also my very own masterplan for 2016 - to have a year off, totally failed. already in january i sabotaged myself when i agreed to paint in a refugee camp in berlin and then decided to release a coloring-in book for refugee kids, wich is now in its 5ths edition. There will be a releaseparty in Nürnberg next friday and the week later the Goetheinstitute invited me to play a show in a " cool underground club( in their own words) " in Amman / jordania to celebrate the release of the arabian edition of this coloring-in book. And already next week i will have my first unplugged show with nobody else but jens friebe playing sophisticated pianoversions of some of my songs. and don't you miss the annual neoangin xmasparty at valentinsstüberl this year, together with wonderful Panxi on dec 16 and lets all hope 2017 will be better. It will a round birthday for neoangin and to celebrate this i decided to release a box with 7inches and silkscreen printed covers - so don't you scratch my records friends...
too late to die young
In 2017 the 1 man band Neoangin will have its 20 the birthday!!! while i am still considering myself as a young artist that is just about to arrive on the scene i guess i might have to face the fact that i am already around for 2 decades. sometimes i see young people at my show that tell me that their parents played my music to them when they were kids. i guess i have to continue and what better way than doing it with not only a new album but also for the first time in bandhistory a box with 7 inches, old songs beautifully rerecorded mixed with new ones. not that i have done it already, but studio is booked and even good old chris imler agreed to do the nasty producers job again. in the meantime theres a few more shows to keep me in the mood and alive. hope to see you guys
its so easy to fall apart
heres another full album on youtube from those neoangin childhood days, selfreleased with only a few hundred copies and a simple cardboardsleeve. As a bonus it had the computergame "mail strip show" on the Album wich started immadetialy as you put the Cd in your computer, and so made it rather difficult to download the songs. it made it also diffult to get the Cd out of your computer once it was in. Its also the first one that puts those characteristic elements together, that later would be discribed as the initial neoangin sound. bumpy breakbeats, sixties melodies, weird singalongs, obscure titles and short 1 minute tracks with almost no breaks inbetween. i still do play some of these songs, like "Tv made me do it" and "cellophan", come by to one of the next shows and see if they still sound as fresh as in 1999.
business as unusual
after being neoangin for almost 20 years it was kind of a surprise for me to meet these 5 ladies after my gig in gebäude9 in cologne who introduced themselves as a delegation from the "real" company Neoangin . mood was friendly and after i promised them that i have no ambitions to change my name they disappeared into the night. all in all times are not so bad , i moved house, only 1 km from where i lived before but still it brought a little chaos into my life. i do shows here and there and just recently i was very exited to have PC from warren suicide joining me on trumpet, electronics and tambourine for the complete gig at pictoplasma party in urban spree. and there are plenty of new songs including a jeffrey lewis cover version called " street art is dead" and a trilogy about the internet - i could fill a new album immediately with all of them but then again i see so many boxes with unsold cds at home that right now i am not sure if i really should do another one. lets just wait and see.
living up the savings
Did you check neoangin.info recently? Not too much happening, here but its going to change. 2016 will be the year of Neoangin! In the end of 2015 i was kind of exhausted with the monthly rythmn of having to do bigger solo exhibitions with the complete package of inventing a good title, flyer, press, concept and images. I would't call it a burnout but I knew I wanted to stop with it for a while and so I came up with the new year resolution of doing no exhibitions in 2016, wich also meant not much money coming in this year. And that's why I called my next party in Südblock with the incredible Puppe'n mucke and amazing Panxi on feb 19 simply "living up the savings" because that's what I do right now. Please join me…
Bohemian Rhapsody
every year i have the masterplan to try out something new. this years plan was to finally learn to play the piano. after 20 years of being a 1 man band with almost full playback i wanted to do shows where i would just sit on stage with a piano and play everything live. my goal: i wanted to be able to play bohemian rhapsody till the end of the year. the rehearsal started surprisingly good and after a few months i already had a repertoire of 15 songs of my own that i could play just by myself but no bohemian rhapsody of course... and then in summer came the invitation to do a 1 hour liveshow for Zündfunk that would also get fully broadcasted. they told me that they also had a grand piano in the studio, immediately i was obsessed to do an all acoustic show for them and rehearsed like crazy, almost every free minute in july but after a few weeks i caught a bad carpal tunnel syndrome on my left hand and had to give up the project and return to the good old singalong to playback technique. as an revenge my ipod let me down during the live broadcast: there was a crucial moment when the broadcast started and my ipod suddenly was just dead and had to get rebooted ( top foto ). still there was a wish to do shows in a different way: when i did a concert for dockville festival in hamburg in august i decided to sing a personal song to each guest. i thought it would be nice to have an intimate situation like in a small boat. to my own surprise i found a boat and brought it there( bottom foto ) and then i sat with 1 or most of the time a few guests and sang them right in the face. in the end that show went on for over 7 hours . But still here is also the usual kind of shows. For my summershow in valentinsstüberl not only did i smash 3 microphones but also my beloved kaossilator just passed away. thanks to my nice audience member lo i have a new one now. i love my audience.
music to hide and seek
guys - its almost summer and most of all i feel the time passing by. i am doing exhibitions like crazy, in a wild rush as if my time is running up and i haven't made a proper new song in almost half a year. just recently i met some friends who were looking for my album music to hide and seek wich is sold out since a long time. i am not at all interested into rereleasing so i decided to put it all on youtube for those few who still look for it. in fact it has been years since i listened to it myself and immediately it all came back : trouble with love, trouble with the world, trouble with myself - somehow i had some nice melodies for all that confusion then. and now i really want to make some new music... lets see where i get. there are a couple of shows in summer including a one hour liveshow for zündfunk nachtmix in aug. see you then
marx was right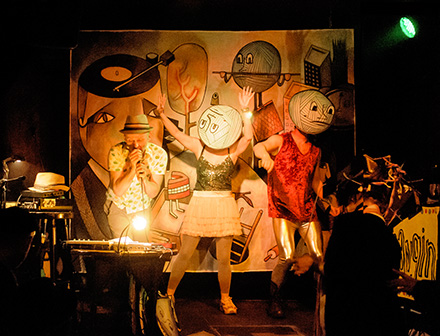 time goes by, as it always does. i did a couple of shows in the last few weeks including a very nice one in a club close to the beach in ravenna/italy. in berlin there is now a group of people, that is coming to all my shows to dance with masks on stage wich is nice, because it doesn't feel so lonely anymore up there but also adds a little bit of extra chaos. at the show in Konzulat i jumped on the mic and destroyed it and by funny coincidence the sound guy was gone for dinner during my show and there was no other mic available. good luck i had this small new keyboard , a little box of wonders named OP-1, that has a built-in mic and so i sang the rest of the show through that keyboard wich looked rather ridiculous but sounded surprisingly good. right now i am in korea with the family - no shows but i have brought that special keyboard with me to work on new songs. i just discovered there is a function that converts a drawing into a sound. by default it came with a little portrait of Karl marx and the words "marx was right".
party for 1
the year is almost done and instead of partying i am seeing the postoffice three times a day to send all those xmas special orders in time. thanks to everybody who ordered and thanks to all the people who replied to my big mailout some weeks ago. now i know there is a tiny future for neoangin. in the meantime please enjoy my next video with guestappearances by rebecca and adja. we did all the filming in summer but then i found out that i had put the camera resolution to lowest level and was so paralysed that i couldn't work on the video for months. now its out and i am sure it lives on its lofi charm and i hope you like it. when in berlin please join me for the neoangin xmas special this thursday in valentinstüberl with a very special santa claus from nova huta.
HUGHUGHUG
As usual it all happened in a bug rush in the end. The finished copies of my new album arrived 1 day before the record release, and the party itself was a big exitement and so was the minitour. The show in colognes Gold und Beton ended as a 4 hour dance extravaganza after wich I completely lost my voice, I had to whisper my talk in museum Ludwig the following day. I returned home from the tour as a happy man , with every copy sold that I had in my suitcase, but then went straight to bed for the next week with a strong cold. I am okay again and since there is no exhibition planned for December and only 2 small shows over here in Berlin, I think thats the perfect moment to update this homepage, tell you the stories behind the songs on the new album, complete the bio, upload new fotos and artwork and make everything look fresh again. Till soon
> READ ALL NEWS
> Get the newsletter
> Facebook-Page
> Subscribe to the RSS-Feed
NEW ALBUM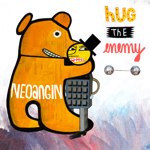 Hug the Enemy
NEXT GIGS
Sunday, 11. Dec 2016
JOR Amman Bookrelease & Show

Friday, 16. Dec 2016
D Berlin Valentinsstüberl

Wednesday, 15. Feb 2017
D Köln wearealma

RECENT GIGS
Friday, 2. Dec 2016
D Nürnberg MUZ club

Thursday, 1. Dec 2016
D Chemnitz Atomino

Wednesday, 30. Nov 2016
D Berlin Donaustr 115 Neoangin UNPLUGGED

Friday, 18. Nov 2016
D Stuttgart Galerie Schacher

Friday, 11. Nov 2016
D Berlin Kugelbahn

Monday, 31. Oct 2016
D Frankfurt Yachtclub

Thursday, 13. Oct 2016
BEL Bruxelles Walvis

Thursday, 22. Sep 2016
D Berlin St Georg Tschk! talks special

Saturday, 3. Sep 2016
D Berlin Veteranenstrfest

Thursday, 1. Sep 2016
BEL Bruxelles la vallee Urban spree groupshow

Wednesday, 31. Aug 2016
D Berlin 10Jahre Lofilounge Schokoladen

Saturday, 20. Aug 2016
D Werbellinsee Reclaimfestival

Thursday, 21. Jul 2016
D Berlin FHXB Museum

Friday, 24. Jun 2016
D Berlin 48H Neukölln Weserstr 183

Saturday, 4. Jun 2016
D Hamburg 25 Jahre 4000 Groupshow